Salesforce Dashboard: A sales dashboard is a graphic depiction of sales information, usually in the form of a graph or chart. It is housed inside a business's CRM or sales analytics software and compiles pertinent metrics for a quick view of how sales are doing. A dashboard, when used consistently, may show sales teams where they are succeeding and where they still have room for improvement.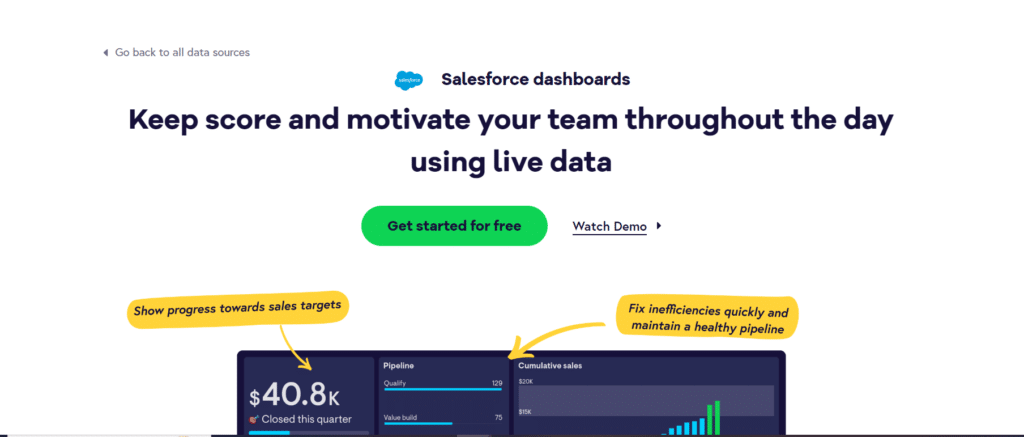 Although sales representatives can develop dashboards to track their individual accounts, sales managers, sales leaders, and sales operations teams typically create sales dashboards. For optimal visibility, the most flexible CRMs enable teams to share dashboards with other members of the sales team and around the company.
Salesforce Report
A report is a list of information produced using filters. Salesforce Reports gave us the opportunity to boost profitability and assisted us in predicting trends. The administrator can rapidly generate reports and schedule them. Your report data can be visualized and analyzed using a Salesforce dashboard or chart.
Types of Salesforce Report
The templates known as Report Types allow you to build reports in various formats.
Salesforce offers a number of common report types that are preset right out of the box.
Not seeing every field you'd like to see? It could be necessary to develop a unique report type.
A report is a set of documents that satisfy the requirements you specify.
In Salesforce, it is shown as rows and columns that can be sorted, organized, or shown as a graphical chart.
You can display the most important details about the objects with the aid of the report. Top Products, Top Accounts, and a Successful Marketing Campaign.
Salesforce Dashboard
The purpose of a Salesforce dashboard is to support the sales team in maximizing the use of available resources and accomplishing predetermined sales targets by monitoring, analyzing, and optimizing all pertinent areas of customer relationship management.
Salesforce Dashboards are dynamic, visual displays of the data in your company. Within your Salesforce environment, they offer a consolidated view of analytics, data, and key performance indicators (KPIs) from multiple sources. Because of their great degree of customization, dashboards can be made to specifically meet the requirements of various jobs within your company.
Salesforce is a widely used cloud-based customer relationship management (CRM) platform that offers great benefits for sales process planning and optimization.
You can fully leverage your business information by combining your current Salesforce data with other data sources using DataPine's all-in-one BI dashboard platform.
The Significance of Salesforce Dashboards?
Salesforce Dashboards act as a central repository for up-to-date data, benefiting companies in the following ways:
Track Progress: To assess performance about objectives, monitor key performance indicators (KPIs) in real-time.
Make informed decisions: Use quick access to information to make data-driven choices.
Expand Cooperation: To promote cooperation, and share insights with stakeholders and teams.
Increase Productivity: Cut down on time spent on manual data collection by streamlining data access.
Create a Sales Dashboard 
Depending on the analytics platform you're using, there are a few standard stages you can follow when creating a sales dashboard: Choose the KPIs and goals you want to monitor, locate a tracking tool, sync your sales data with the new platform, and create dashboards for your team members.
Decide which sales targets you wish to monitor. For instance, your annual sales target might be $1 million.
Determine which metrics help achieve each of these objectives. Tracking metrics that help you achieve your single goal of total sales, such as leads created, leads in pipeline, and pipeline value, is generally a good idea.
My advice: Make an effort to limit each aim to three or four metrics. (If not, configuring and interpreting your dashboards will be difficult.)
Determine who ought to be able to access each dashboard. For optimal visibility, you should frequently share dashboards with the entire team. However, other dashboards—like the one that tracks topline sales goals—might not be useful to reps in their day-to-day duties.
Look for a CRM or analytics product that lets you make dashboards with the KPIs you've chosen. Building dashboards is made easier by the drag-and-drop capabilities and pre-built layouts included in many customer relationship management (CRM) systems. Selecting those who can quickly and easily develop dashboards according to position or function is advised.
Adjust your data. When adding a new analytics tool to your IT stack, make sure it can sync sales and customer data often, ideally in real-time, and that it is securely integrated with your other tools. As an alternative, you can choose (or switch to) a CRM with strong analytics and configurable dashboards to prevent daisy-chaining a bunch of software.
Make your dashboards and distribute them. Observe the instructions supplied by your CRM or analytics provider.
Sales Dashboards Examples 
Simple dashboards that are visible to everyone in the sales organization and backed by real-time data provide you with the best overall view of sales and business health. The seven I use the most are listed below:
Dashboard for sales status: It's intended for executives and sales managers.
KPIs to include: average quota attainment percentage, total team income, total deal amount in pipeline, forecast accuracy (may also include: total new leads, employee satisfaction and attrition rate, calls booked by quarter or year, average team deal amount)
Use on a daily or monthly basis.
Why this matters: Consider the sales dashboard's current condition as a command center. It offers a quick glance at all the important data that impacts the team's overall sales goals. Knowing these will help you spot indicators that your overall sales strategy needs to be reviewed, your territories need to be reassessed, or your enablement initiatives need to be strengthened.
Dashboard for forecasting: Who is it intended for? CEOs and sales managers
KPIs to be considered are average deal value, average sales cycle time, average team win rate, and overall pipeline value.
Use once a week.
Why this matters: Consider your sales team's dashboard as their weather report. It can predict whether or not you will meet your overall sales targets based on the most recent sales data and guide your representatives through any possible rough patches. To identify any issues that can prevent you from meeting your topline sales targets, such as low lead volume or excessively lengthy sales cycles, I advise reviewing it once a week.
Dashboard of Sales Rep Performance: For sales managers, that is.
KPIs to be considered are: rate of conversion, total revenue produced, percentage of quota attained, activity participation, pipeline opportunities, rate of customer retention, possible risks, and accounts that have been neglected. (May also include activity indicators like calls made or emails sent, leads created, opportunities in the pipeline, average deal amount, and sales cycle length.)
Use on a daily or monthly basis.
Why this matters: The three primary measures of conversion rate, total revenue generated, and quota attainment percentage are the most reliable indicators of representative performance. You may determine whether a representative is underperforming, performing as expected, or thriving by combining these on a dashboard and comparing them to prior months, quarters, or other reps. The other information mentioned here, such as the average deal amount and leads generated,
Sales leaderboard: Managers and sales representatives
KPIs to be monitored by representatives include the number of new leads, the number of new pipelines created, and the quota attainment percentage. (May also include: service level agreement compliance rate and activities reported.)
Use it every quarter.
Why it matters: Most of the salespeople I've dealt with are rivals. Their goal is to outperform their coworkers by closing more or larger deals. By making your sales representatives' performance visible to the entire team, you motivate them to strive for the top spot on the scoreboard. Promote healthy competition by providing extra rewards to individuals who reach the top of the scoreboard at the conclusion of the quarter. An important benefit for managers is that this dashboard shows which representatives may require more coaching.
Use sales dashboards to increase the performance of your team.
Dashboard configuration is only the start. To make sure these dashboards are still relevant once you have them in place, you must examine and update them on a quarterly basis. By maximizing the functionality of your tools through routine maintenance, you can make sure that your leaders, managers, and sales representatives are always getting the information they require to close deals more quickly and successfully. It's much simpler than looking at those numbers on sheet after sheet of rows and columns, so don't worry.
Conclusion
Salesforce dashboards provide a dynamic and effective means of accessing, visualizing, and sharing data, making them an essential part of contemporary business intelligence. Through the development of intelligent, tailored dashboards, companies may enhance decision-making processes, foster better teamwork, and eventually attain superior outcomes.
Salesforce Dashboards enable enterprises to use the power of their data in a data-driven world, guaranteeing that every choice is founded on precise, up-to-date information. Salesforce Dashboards can be your most effective tool for success, regardless of your department—sales, customer service, marketing, or any other. Explore the world of Salesforce dashboards now to realize your company's full potential.