We are now heading towards a brand new topic called Data Management in our educational series of Salesforce. The amount of data is generated at an immensely high pace with the growing digitalization. Moreover, you need to manage the database to extract useful information intelligently. Today, we will discuss some essential points regarding Data Import in Salesforce. It is a golden opportunity for readers who want to pursue their careers in the same field. Make sure to read the entire blog and try to grasp the context of the topic.
Importing Data in Salesforce
Salesforce provides an easy procedure to import data from third-party databases. Moreover, you can use subsequent tools and applications to make the job easy and quick. The .csv (Comma Separated Values) files are supported by the system. The best part is that users can perform the following activities while importing data in Salesforce,
Inserting: It creates new records in the Salesforce database and fill in the details after importing data
Updating: You can easily modify or update existing records with the help of an adjoining record ID.
Upserting: As the name suggests, it can be used to either update or insert a new record. If the record is already present, the data is updated. On the other hand, it will automatically create another record for new entries.
Methods for Data Import in Salesforce
Salesforce users tend to import data regularly to maintain an authoritative business database. You can use any of the given methods for the data import process,
#1 Data Loader
Data Loader is a helpful tool that clients can use to upload data as big as five million records at a time. Also, it can handle various types of files to provide a seamless experience. You can either access it through the command line or the user interface itself. However, command line requires you to fill in complex parameters like data source and mappings.
#2 Data Import Wizard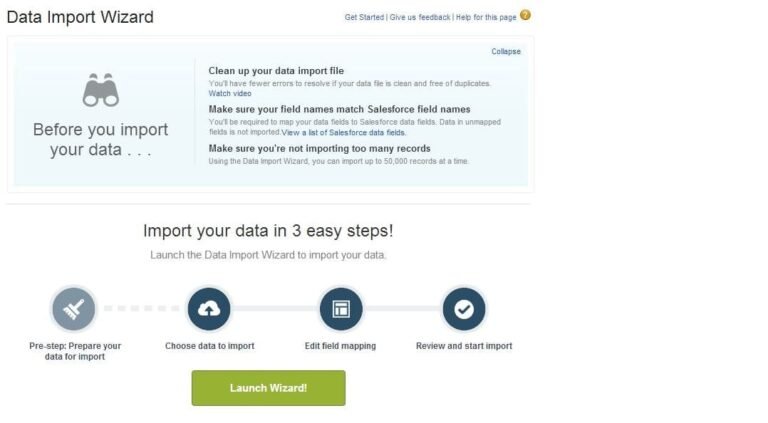 The next method is used for Data Import in Salesforce by opening the Setup menu on your account. It can configure standard objects like accounts, contacts, and some data within custom objects. However, the maximum limit is only 50,000 records at a single time. Moreover, users can easily adjust sources and mapping parameters for quick configuration.
Adding Values to Picklists
There are some situations where you need to add new records to Picklists or Multi-Select Picklists. If any new entry does not match valid data, the system will automatically give an error message. However, you can click a single button to include the new value to the recorded. In case you want to the change the values in the future, there is a prioivision for adding updated values.
The correct way to add new values to Picklists in different formas is given below,
Default Values
This value is allocated to any unmapped field in the import wizard. Therefore, you don't need to fill in the data everytime you enter a new record.
Checkboxes
The numerical digit '1' is used to differentiate checked values from unchecked data depicted by '0'
Multi-Select Picklists
You can easily define multi-select picklist values by using semicolon (;) between multiple values.
Formula Fields
If you try to add values to formular fields, you will end up failing as you have read-only permission for the same.
Universally Required Fields
In case you don't include any universally required fields during Data Import in Salesforce, the entire process will terminate.
Date Fields
The date and time formate should match with the local configurations while importing data from external sources.
Final Thoughts
We hope our guide on Data Import in Salesforce will help you understand the basic technique to upload data. Also, try to get familiar with the import tools to have a better command on the system.
If you want to learn more about it, we have a special course about
Salesforce Platform App Builder Certification.
Do check it out as you will get EXTRA DISCOUNT!!