This is the last blog in our discussion of Cloud Computing that is quite important from the Salesforce point of view. The title is quite clear that today we will learn about Virtualization in Cloud Computing along with its definition and other aspects. Moreover, you will get an overview of all the different benefits of using the architecture of Virtualization. Hence, make sure to read until the end of the blog and comprehend the provided examples.
What is Virtualization?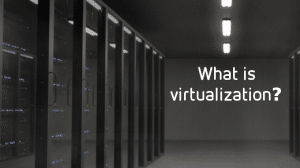 As the name suggests, Virtuaization means creating a useful set of services with common or shared resources for multiple customers. Visualization in Cloud Computing refers to providing a physical application or software to several customers or organizations. The main idea is that these applications are basically generated from a single network or storage point. In other words, users get access to a physical resource by providing them with the respective pointer of the location. Thus, the customer feels that he is actually controlling a separate environment. However, several users are using different portions of the entire system respectively. The overall user experience is quite similar to working on the own model or environment. But in reality, various user accounts share a single infrastructure while working at the same time.
Example
We can understand the concept of Virtualization in Cloud Computing through this example:
There is no doubt in the fact that all of you have used Google Drive at least once in your life. Similar to any normal cloud service, Google Drive is a vast storage unit with division into numerous parts. Each user can access the specific location of the storage server to store any important files or data. It feels like you are using the entire Drive storage, but actually, it is only a small part. This concept of providing features and applications to the user is known as Virtualization.
The above diagram clearly determines the structure of Virtualization in Cloud Computing. You can see that each person has an isolated environment with all the required applications accordingly. The user only needs to log in with the specific ID and he will get into the virtual system. This model is also known as Multi-Tenant Architecture that is quite obvious from the picture itself. Each user is like a tenant who works on the individual virtual machine and other requirements. However, the base levels of Storage and Network are the same for the entire system.
Why Cloud Computing is Beneficial?
Here are some key points that determine the benefits of Cloud Computing in real-world situations.
More Profit
Reliable Environment
Low Cost of Maintenance
Easy to Scale Up and Vice-Versa
High Level of Collaboration
Secure Structure
Misconceptions of Cloud Computing
Cloud Computing is quite a new entry in the market or business industry. Therefore, people are not sure about the functioning of the system. There are some misapprehensions regarding that same that you should not believe like,
The data can be lost or manipulated without the user's consent
Cloud Computing is not a reliable source of storing and managing data.
It has security issues and thus you will lose control over the structure.
Also, you can find numerous other false claims running up and down in the market. However, there are no such things as large-scale companies are dependent on Cloud Computing. Also, you can easily bring out the best for your organization by connecting with Cloud Computing.
Feeling interested in the topic??? Well, we have a special
Salesforce Platform App Builder Certification course just for you!
Enroll in it today and start building your skills.