This summer has been a tough ride for the whole world and everyone is really worried about what will happen next in this year. But we can have a sigh of relief as Salesforce Winter 21 release is just around the corner. Just like every year, this is the time when Salesforce Admin & Developers get a major update in their current system. Not only this, users too get hands over advanced UI and features that will make their journey easy and comfortable. In this blog post, we will learn about Top 10 features of Salesforce Winter 21 release.
The Salesforce Winter 21 release dates and other major Sandbox previews are already been scheduled by the Salesforce in the coming weeks. Today we are here with some of the Top 10 Features of Salesforce Winter 21 for all our readers. Make sure to read the complete article to get a full grasp of all the major and minor details that will be added in the next update.
Top 10 Features of Salesforce Winter 21 Release
#1 Dynamic Actions & Forms
When we talk about some of the most used and advanced tools in Salesforce, I don't think anyone will question this opinion of Actions and Forms. In the new Salesforce Winter 21 release, these two tools will undergo improvements that were never seen before. Dynamic Actions will create an opportunity to hide/show actions that are user based directly. This will help in developing an interactive user experience.
Also, with the help of Dynamic Forms you can create mini-page layouts that can be applied on the main screen using the Lightning App Builder. You can easily customize them as per the user convenience.

#2 Use Lightning Web Component to Scan Barcodes
This allows you to add the facility of barcode scanning through a BarcodeScanner API to your Lightning web components in the system. You can easily scan various barcode types such as QR, UPC, Data Matrix and many more without any hustle. Directly save the product details, record inventory scans, save contact information- all from your mobile device run by the Lightning components.

#3 Preference Based Display of Survey Pages
Your data in Salesforce org can be helpful in determining the survey pages that were viewed by the participants after one another. You just have to use a handful of variables for defining conditions in the page branching logic. Some org variable can also be used to define conditions stated by your org's information. You can also define customized variable to allocate desired conditions to the values that you define in the system.

#4 Create Email Templates
A feature of this type is always neglected until you have a look on it. This improvement will come handy to design emails as per your wish. You can now create Email templates that can be easily accessed to design the email section. You need to use the Lightning App Builder type screen to get the job done. It will be a major addition in the email section of Salesforce.
#5 Enabling Einstein Search
This is among those few features within Salesforce that is getting stronger after the release of each update. I'm not sure what are you doing with your life if you haven't enabled the Einstein Search option yet. After the Salesforce Winter 21 release hits, you can enable this feature in professional edition to get the most out of it. Moreover, enabling Search Personalisations allows you to keep a track of search results gained by various users based on multiple factors such as previous records & Geo-location.

#6 Analyse Lightning Page Performance
Now you will be able to utilize your Lightning App Builder more efficiently to make your record page perform better through various data analysis. In layman language, Performance Analysis in App Builder calculates the fields, instances of the Related Lists component, and metadata of a record page. You are just a click away from getting best suggestions for improving the user experience, as well as the overall performance.

#7 Scheduled List Emails
After the Salesforce Winter 21 release, you can schedule and select the appropriate time to send list emails. You have to select the desired date & time when you expect the list email to read. For instance, scheduling a list email to send in the beginning of a workday will be a better choice. Earlier this feature was only available for individual emails.

#8 Customize Community App (Pilot)
Various users have different needs and they prefer the Community App in a certain way and order. You can now place Mobile Publisher for the user's frequently used menu options for a better reach. You can customize the type & order of items with the help of community Experience Builder.

#9 View the Changed Deals
Opportunity deal changes help your company to decide and set priority to certain work by evaluating the recent changes to amounts and close dates for particular deals. The managers can easily plan their weekly coaching sessions as per the variations in deals. Also, the users can attain more knowledge about the deal by hovering their cursor over it.

#10 Debug Sandbox Flows as Third User
As we all are aware, debugging any system is not an easy task due to various complications. But now you can debug the sandbox org quite easily with the help of debug flow as another user. This helps you to detect flow expectations such as unexpected permission, profile configurations and sharing important details. These flaws can be removed prior to being introduced in production orgs.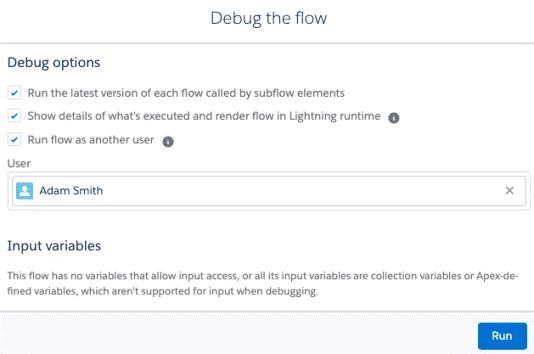 I hope you enjoyed this blog post on Top 10 Features of Salesforce Winter 21 Release. Check out the post here: https://mytutorialrack.com/salesforce-winter-21-release-notes/