Salesforce Non-Profits: In the world of nonprofit organizations, effectiveness, and influence are critical factors. These groups work hard to maximize resources to advance their goals and bring about significant global change. Salesforce—best known for its customer relationship management (CRM) software—has become a game-changer for nonprofit organizations, providing tools that improve stakeholder engagement, increase fundraising efforts, and streamline operations.
With so many Salesforce solutions on the market today, it can be overwhelming to know where to begin. Nonprofits may find this even more perplexing as Salesforce initially appears more commercial, with a budget to match.
Acquiring a pre-built application with the appropriate foundation, featuring objects and architecture that align with your use case, might be highly advantageous and cost- and time-effective. Which one or ones, then, should you choose? Let's examine four possibilities that nonprofits and charities can utilize for free.
Why Does NPSP Exist?
Various organizations utilize different systems to record your interactions with your volunteers, clients, and supporters. Some use Google Docs, while others use paper records or mobile apps. Emails, phone conversations, and meetings may all be easily tracked on your donor, client, or program records using NPSP.
Everything is available to you anytime, from any location, and in one convenient place. primarily
Manage contacts, users, donors, volunteers, and more efficiently and effectively. Keep tabs on households and the relationships among the critical stakeholders in your firm.
Keep track of commitments, hard and soft credits, planned and recurrent donations, and more. Count revenue, cash, and general allocation units for the whole company.
What is Salesforce Non-Profits CRM Software?
The end-to-end Salesforce Nonprofit Cloud software is for nonprofit organizations, educational institutions, and other fundraising-related entities. It helps them reach a wider audience online, build stronger relationships with their constituents, simplify internal management by tracking collaborators, and eliminate organizational silos between fundraising, program management, marketing, and technology teams. It provides NGOs and organizations with a cohesive picture of their current operations and activities.
Numerous nonprofit solutions are included with this CRM software, including:
Fundraising
Marketing & Engagement
Program Management
Grants Management
Nonprofits may track and manage their programs, incoming funding, and revenue streams all in one location with the aid of these technologies.
How Can NPSP Use Salesforce to Assist a Nonprofit Organization?
The primary characteristics of the Nonprofit Success Pack assist you in arranging consistent data more significantly.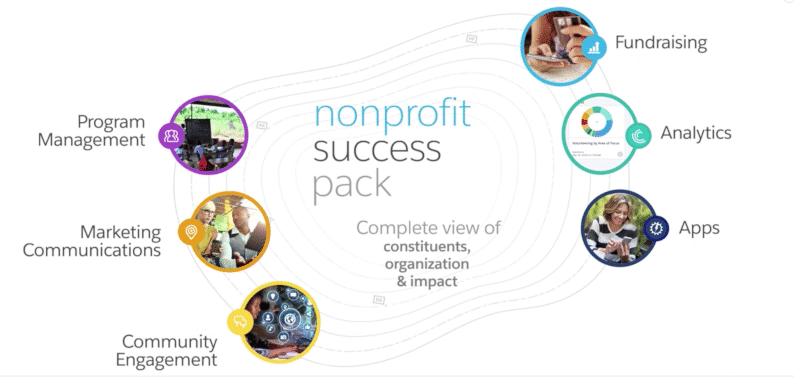 Fundraising
Reports 
Constituent Relationship Management
Continual Contributions
Program Management
Program Monitoring 
Services Monitoring
Counts
Regular Services and Participation
Marketing 
Emails with Customized Content 
Using Templates
Salesforce Non-Profits Benefits
It becomes crucial for nonprofits to utilize CRM software to ensure that the specific program efficiently plans, directs, and oversees their daily operations.
This is significant because business and nonprofit organizations operate in distinct ways. However, entities must maintain nonprofits orderly, transparent, accessible, and financially managed manner. Salesforce Nonprofit Cloud is essential in this situation.
Here are some essential advantages of Salesforce for NGOs that support meeting goals and harmonious operations.
Organize Nonprofits Better
The main advantage of Salesforce for organizations is that it helps them organize their data better and produce more actionable tech plans. What? The nonprofit salesforce cloud has integrated features that assist NGOs in designing and building personalized workspaces for each participant. Nonprofits frequently struggle to manage their workforce, grants, and fundraising efforts. Salesforce aids them in overcoming these obstacles in this situation. The Nonprofit Cloud platform makes it possible to create customized dashboards for different teams, making it easier for workers to monitor and complete their tasks.
Increasing Efficiency in Operations
The workforce's remarkable increase in operational efficiency is a critical factor in the decision to use Salesforce's nonprofit CRM. It facilitates the development of strong communication channels between the workforce and the organizations' numerous partners. Improved communication and a rising positive synergy increase operational efficiencies, which assist in achieving the desired goals within the allotted period.
Personalization
The customization feature is one of the main justifications for NGOs to use Salesforce. NGOs can alter the features of the Nonprofit cloud software to suit their daily operating needs. While various NGOs have distinct purposes and requirements, most operate under a similar framework. This is where Salesforce customization comes in handy for them; it allows them to personalize the built-in features and capabilities that make it simple to meet their specific goals.
Accurate Reporting
Any nonprofit organization must accurately record and report on its fundraising efforts, programs, seminars, donations, and other activities. Reporting is an integral element of what nonprofit organizations do. Keeping these reports correct and up to date is vitally important because it significantly impacts their missions and results. Therefore, one of the most significant choices for NGOs looking to do reporting is to use Salesforce. This CRM software is well-known for being accurate and dependable, which is quite advantageous for nonprofit organizations. Additionally, organizations can benefit from solid data analytics and visualization capabilities by integrating Salesforce with Looker Studio. This can help them improve their decision-making processes and better understand their operations.
Immense Support
With the extensive community assistance that Salesforce offers, you never have to worry about being alone if you encounter difficulties with its various features, capabilities, dashboards, or layouts. Experts who are committed to providing you with the most excellent solutions will always be by your side. NGOs engaged in fundraising can request support from Salesforce Nonprofit Cloud at any time and from any location. Whether you need help with a dashboard or technical issues, its partner program can help you get in touch with timely support to help you handle all of your questions.
Features of Salesforce NonProfit Cloud
Using Nonprofit Cloud for Fundraising: The most crucial component for a nonprofit to continue operating is money. They are among the essential elements that sustain and sustain NGOs. The fundraising function of Nonprofit Cloud provides an opportunity to engage with the proper contributors more efficiently. This feature gives a single view of donors, facilitates communication between organizations and partners, and encourages donors to maintain their support. Experts in the field say that the fundraising function has increased donations by 50%, allowing donors to see the true impact of their contributions.
Prioritizing Digital Fundraising: The fundraising team needs to be more flexible with its tactics to raise more money to support the cause. Salesforce's digital-first fundraising approach will assist them in developing solid plans that bring in additional revenue for the company. The digital-first approach enables fundraisers to reach potential donors wherever they are and provide them with individualized communications through various platforms.
Program Management: Nonprofit Cloud's program management solution makes it easier for you to oversee your initiatives. Program managers used spreadsheets and paper to design and carry out their organization's programs. Program managers may swiftly develop and create new programs or modify services based on requirements using the Salesforce Nonprofit program management functionality. Nonprofits may easily handle various programs thanks to the program management tool, regardless of how many or complex they are. With the aid of the Salesforce service cloud, you may run an emergency service hotline or call centre to give vital information and support to your end prospects. Either way, you will receive human-centric support anywhere, at any time.
Cloud Marketing for Nonprofits:  For charity organizations, Salesforce Marketing Cloud can help you establish quick and easy connections with your constituents. Nonprofits might use marketing clouds, which are made significantly to improve their communication strategy more quickly. It enables you to send more individualized emails and messages to your fans. Email templates are pre-installed for volunteers, donors, subscribers, and sustainers in the nonprofit marketing cloud. With just a few clicks, you can design stunning, organized, and visually appealing emails and forward them to your supporters and partners. Ultimately, it heightens the supporter's curiosity and draws several donations to your campaign—already your most eagerly anticipated accomplishment.
Conclusion
Salesforce has become a cornerstone for non-profits, empowering them to focus more on their mission and less on operational challenges. Providing a powerful suite of tools tailored to their specific needs significantly enhances their efficiency, impact, and ability to drive positive change in the world. As technology advances, the partnership between Salesforce and non-profits promises a future where organizations can achieve even greater social good.
By leveraging the cloud-based capabilities of Salesforce, nonprofits can enhance their efficiency, transparency, and scalability, finally allowing them to focus more on their mission and less on administrative tasks. Whether managing donations, organizing events, or cultivating relationships,
Salesforce for Nonprofits provides a comprehensive solution tailored to the sector's unique needs, facilitating sustainable growth and success for organizations dedicated to making a positive difference in the world.