Accurate and standardized address data is crucial for businesses in today's digital world. With Salesforce Address Validation, businesses can eliminate errors, improve data quality, and enhance customer experiences. One such tool is AddressTools by Proven Works. In this blog post, we'll explore the key features and benefits of AddressTools and how it can optimize address-validation processes within Salesforce.
Comprehensive Functionality for Standard and Custom Objects
AddressTools integrates with standard Salesforce objects like leads, accounts, contacts, and contracts. Moreover, it supports custom objects and fields, allowing you to tailor the functionality to your specific business needs. Whether it's a custom address block on an opportunity or a unique object, AddressTools has you covered.
Power Search: Effortless Address Lookup
With AddressTools' Power Search functionality, searching for addresses becomes a breeze. Start typing the address, and the system narrows down the results to an exact match.
This feature leverages data from global postal authorities, with a focus on the renowned U.S. Postal Service. Even if an address is out of range, AddressTools presents viable options based on proximity. This ensures accurate and verified addresses are populated across fields.
Standardization and Customization
AddressTools offers powerful features to standardize and customize address values. State codes like "NY" are automatically converted to their full names like "New York," while country codes such as "US" are transformed to "United States."
Users can choose to store the full names or codes as per their preference. Additionally, alternate values can be stored alongside standardized ones, ensuring flexibility for diverse integration requirements.
Advanced Data Population
In addition to basic address fields, AddressTools populates other vital information for a comprehensive address profile. The address status feature indicates whether an address is a verified U.S. Postal Service address.
County data is populated from the premise, including fuzzy matches based on zip codes. Custom region data can also be automatically populated based on the address values.
This enables efficient territory management and seamless flow automation.
Customizable Validation Rules
AddressTools empowers users to set up customizable validation rules to maintain data integrity. Individual address fields can be made mandatory or optional, both globally and on a per-country basis.
This level of flexibility allows businesses to enforce data consistency while accommodating specific user requirements. Validation rules can be enabled or disabled for different fields, record types, objects, users, or profiles, striking the right balance between data quality and user experience.
Automated Address Verification
AddressTools streamlines the address verification process through automation. A simple process can be configured to verify addresses that haven't been checked automatically.
Leveraging future methods and premise-level address verification, AddressTools swiftly validates addresses in real-time. This ensures accurate data entry and minimizes manual effort.
Lightning Component for Seamless Address Management
AddressTools provides a Lightning component that can be utilized across Salesforce on any object. This component enhances user experience by allowing them to verify or edit addresses directly on the detail page.
Whether you have multiple address blocks or a single one, the Lightning component adapts to your needs, providing an interactive and user-friendly interface.
How to install AddressTools in Salesforce?
AddressTools is an AppExchange tool and you can install the free version of the tool using the steps provided below:
Step 1: Login to your salesforce org.
Step 2: Click on App Launcher (top left corner) and click the Visit AppExchange button on the top-right side.
Step 3 : Search for AddressTools inside of AppExchange
Step 4 : Click on Get In Now button on the AddressTools
Step 5: Click on Open Login Screen button on bottom right side. Login to your Salesforce org.
Step 6: Follow the instructions on the screen to install the app.
Step 7: Choose the org to install.
Step 8: Click the Install Here button. Choose the Users for which you want to enable the access to AddressTools.
Step 9: Click install button on the bottom right side.
Step 10: Approve Third party access.
Step 11: Agree to Terms and Conditions.
Step 12 : Click Confirm and Install button as shown above.
Once the app has been successfully installed, you can verify under the installed Packages list.

How to use AddressTools ?
You can setup AddressTools using the app launcher. Click on "AddressTools Free Administration" Tab.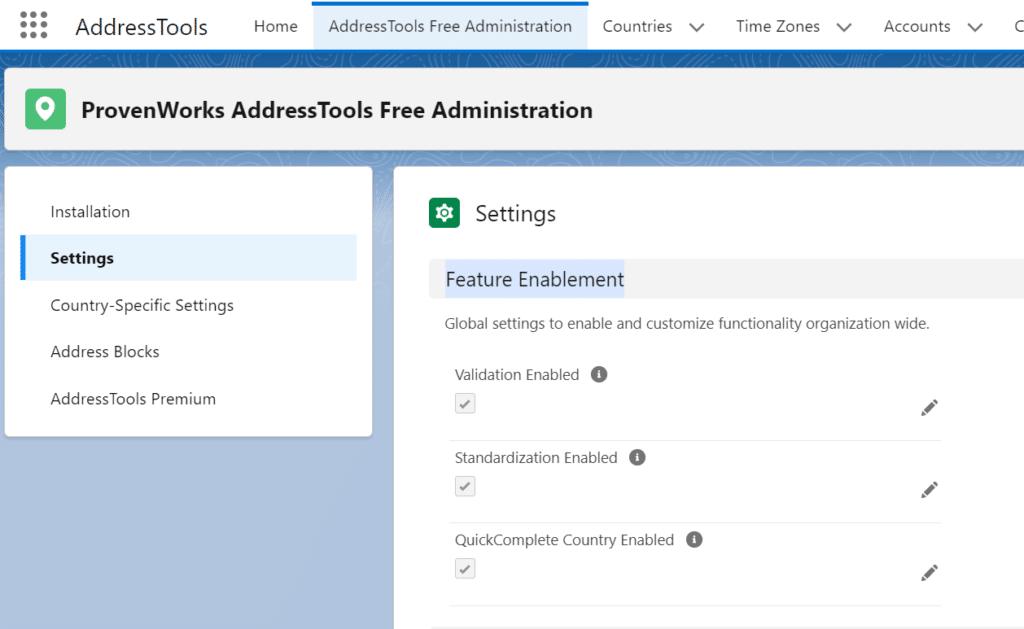 Important Points to remember
Address Tools for Salesforce supports standard and custom objects and fields.
Power search functionality allows users to search for addresses and narrows down to an exact address based on global postal authority data.
The functionality verifies addresses using U.S. Postal Service data and provides options for addresses close to an out-of-range address.
Custom values can be populated in fields based on address values through a lookup relationship field and trigger.
Customizable validation rules can be enabled or disabled for each field, record type, object, user, or profile, ensuring mandatory fields and standardized values.
Salesforce Platform App Builder Course