Page Layouts are important and play a crucial role in managing fields and records in Salesforce. Therefore, we bring you another blog on Compact and Mini Page Layouts in Salesforce that you come across regularly. Users can also view different details related to records more efficiently. Also, you will get an overview of the Salesforce1 mobile application that you can install and link with your account. Let's dive into the blog without wasting any more time.
What are Mini Page Layouts?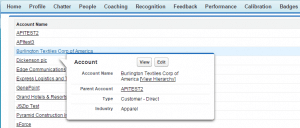 First, we will discuss some basic details of Salesforce Mini Page layouts for better understanding. It is used to display the subset of items of an existing page layout across different records. This feature is quite useful when you need to know about features without actually opening the database. Users only need to hover pointer on the specific recent items, after which you will get the required details. Therefore, you can easily view the information in Mini Page Layouts.
Users also need to configure Profile Associations and Access Settings related to page layouts. The main point to note is that each page layout has a separate mini page layout for Salesforce users.
What are Compact Layouts in Salesforce?
Moving ahead, we have Compact Layouts that are used to display the group of fields accordingly. These are the ones present on the highlights panel of Salesforce1. Thus, you can look for all key field values in that record. However, the maximum limit is only 10 fields at a time. No doubt Compact Layouts can show all field types except for these,
Text Area
Rich Text Area
Long Text Area
Multi-Select Picklist
Salesforce1 is a multi-purpose Salesforce mobile application that is used to manage your business. It acts as an effective platform for users who want to stay in touch with their accounts. Being a mobile app, you can easily customize and alter the settings. However, all changes will only reflect in the existing Salesforce account after you re-login. This feature is practical to avoid accidental edits made.
Conclusion
In the end, we hope you have a clear idea of Compact and Mini Page Layouts in Salesforce. Also, make sure to use them whenever necessary to avoid extra time in opening the records.
If you want to learn more about it, we have a special course about
Salesforce Platform App Builder Certification.
Do check it out as you will get EXTRA DISCOUNT!!