Salesforce Territory Management: If you are a sales team manager, you want everything to go as smoothly as possible. You want the business revenue to blossom like wildflowers, your team to be the greatest, the sales to pour in, and a contented sales staff. That would have been the best-case scenario without a sure, but that is only sometimes the case in reality. Your sales staff may feel unmotivated and low on enthusiasm, your business targets may appear nearly unachievable, and your sales may begin to stagnate for no apparent reason.
What do you think? Now is the perfect time to begin solving the issues and creating a plan of action to get your sales team back on track with Salesforce Territory Management.
Analyzing your sales territories—both individually and collectively—as well as their distribution is the best course of action. After you're through, it's time to take a critical look at the precise definition and redefinition of your sales regions. Are your territories built on customer groups where clients, no matter where they live, meet one-on-one with experts in a certain industry segment?
In the event that your response is yes, you should map sales areas geographically to determine the opportunities you are passing up by not doing so.
What Is Salesforce Territory Management?
To ensure that we are all on the same learning platform, let's read about Salesforce before reading about Salesforce Territory Management.
Salesforce is a cloud-based customer relationship management (CRM) platform that facilitates communication between businesses and their clients. Because it gives all departments—including but not limited to sales, commerce, marketing, and services—a shared, single view of every customer in your company, it is perfect for businesses of all shapes and sizes.
Salesforce's territory management feature is a great tool for increasing sales. An account-sharing system that grants access to accounts based on their attributes is Salesforce Territory Management. Your company may simply organize and streamline people and data connected to Salesforce in ways that are comparable to how your sales territories are structured by utilizing Salesforce Territory Management.
It involves a region or clientele that falls under the purview of a sales force or a single person. Territories are typically defined by their potential for sales, history, location, potential for sales, names of their customers, competitive activity, or a mix of these. By giving each representative a specific sales territory, sales managers can increase field sales productivity and gain from economies of scale. To guarantee effective use of time and resources, however, it is essential to construct well-balanced and controllable areas.
Considerations For Creating A Sales Territory
Competition within sales regions
Type of product or product range that your company offers
The assignment's nature and the sales team's workload
The distribution networks and the business's transportation system
servicing a territory's needs and necessities
Set Up Territory Management
-From the Setup menu, type Territory into the Quick Find box.
-Choose Territory Configurations.

-Click Enable Enterprise Territory Management.
-A success message similar to the one in the image below will appear on the screen.
A success message similar to the one in the image below will appear on the screen.
creation of a type of Territory
From the Setup menu, type Territory into the Quick Find box.
Choose the Category Types.
-On New Territory Type, click.
-Enter Test Accounts (any name would do) for the label.
-You are free to provide any relevant description for the description.
-There is an opportunity to put priorities above and below this one because you can set the priority of 100.
-Select "Save."
Formation of Territory Model Records: Your territories, user assignments, and account assignments are all connected by your territory model record. Salesforce builds a territorial hierarchy based on the record that you create. For the majority of territory management tasks, you may now access the territory hierarchy. The steps to construct it are as follows.
-From the Setup menu, type Territory into the Quick Find box.
-Choose Models of Territories.
-On New Territory Model, click.
-Enter the Current Financial Year (provide any name) for the label.
-Enter the Territory modal for the Current Financial Year in the description field.
-Select "Save."
Create a Territory
-From the Setup menu, type Territory into the Quick Find box.
-Choose Models of Territories.
-To view the hierarchy, click.
Select the Create Territory option next to the Current Financial Year.
-Enter North New York for the label on the New Territory page, then choose the Test Accounts territory type.
-In North New York, type Accounts for the description.
-Select "Save."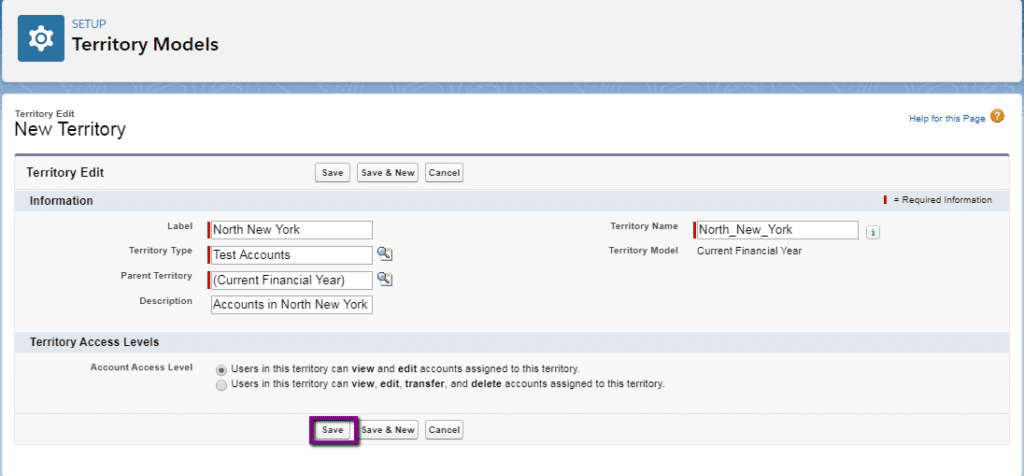 In the territory of North New York, accounts must be assigned to it. Create and execute an assignment rule using these steps to expedite the process.
-Click on New from the Assignment Rules Assigned to This Territory associated list.
-Enter the North New York Zip Code in the rule's name field on the rule edit page.
-Enter Account: Billing State/Province equals NY as the selection criterion.
-Any further criteria can be set as well. It is contingent upon the need.
Click on Save.
Click Run Rules in the Assignment Rules Assigned to this Territory Related list.
You'll notice the specifics as seen in the picture below.
-An email confirming that the rule ran successfully will be sent to you.
-Manually Assign an Account to a Territory
-Click Add Accounts in the Manually Assigned Accounts linked list.
-Choose any account that you like.
-Press the "Assign" button.
Give a Territory an Assignment Rule
-Click Assign Rules in the Assignment Rules Assigned to This Territory associated list.
-After choosing the rule, press the Assign button.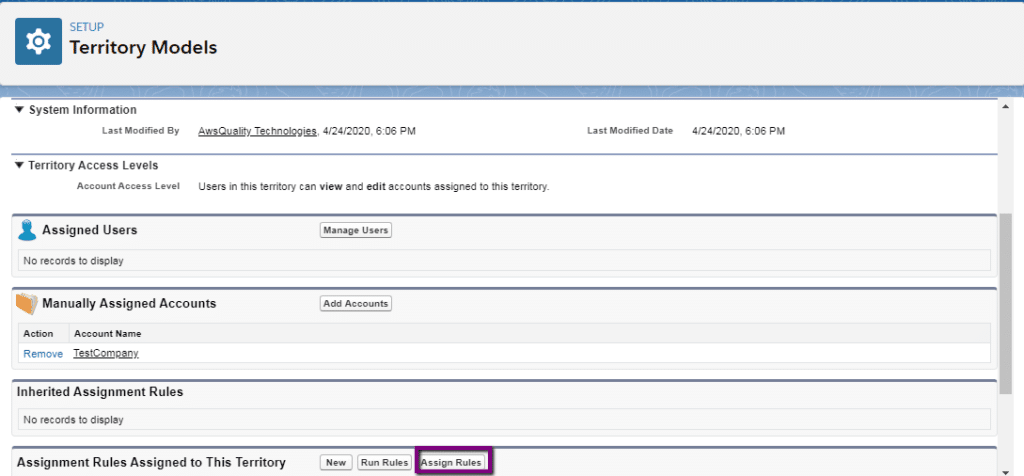 Assign a Territory to a User: Click Manage Users from the Assigned Users linked list.
To add users to the Selected Users column, choose the user from the Available Users column on the left, then click Add.
Press the "Save" button.
Set the Account page layout if neither of these two is found in the associated list.
As seen in the image below, you can now see the details.
Why Sales Territory Management Is Necessary
There are two possible outcomes when sales territories become unbalanced. The salesman or the sales team is overworked in underserved territories, which leads to less-than-ideal activity levels. In addition, individuals in charge of the regions would be overworked, which would leave them with less time to spend with clients and too few leads to pursue. Stated differently, the company will lose out on sales prospects as a result of clients leaving to patronize its rivals.
When a sales team has too many personnel and needs more work to cover a small territory, this is known as over-servicing. Sales eventually decline as a result of these increases in operating expenses and product prices.
Unbalanced territories can result in a variety of issues. Several factors contribute to this phenomenon, such as unequal remuneration distribution among sales representatives on your team, unequal sales potential distribution among team members, and reps leaving to pursue more livable and work-friendly conditions elsewhere.
Salesforce Territory Management Benefits
Sales Force A company's ability to cover its territories effectively, empower its sales force, and be more sensitive to new trends are just a few advantages of territory management, which is essential to its success. Reaching goals requires territory management, particularly in situations where sales managers have limited or no additional resources available to enhance performance.
Using Aligned Territories and Improved Coverage to Increase Sales and Cut Costs: Any sales organization's main goal is to maximize the time salespeople have available to close deals while making sure the correct product is supplied to the appropriate customer at the right price and location. When territories are properly aligned, salespeople's earning potential increases, their workloads are balanced, and their job happiness is enhanced.
This ultimately leads to more motivation, fewer employee turnover, and increased revenue. In addition, territory mapping provides route optimization tools that help reduce fuel consumption, cut down on travel expenses, and expand the customer base that the field sales teams can service inside their designated regions.
Utilising analytics and reporting to measure performance quickly and accurately: When sales territory data is to be visualized using mapping software, a variety of analytical tools can be utilized to benefit from multiple performance reporting options. Plotted data on a map can be combined with the software to provide a comprehensive performance picture. Additionally, it can be used to segment and filter data, separating sales that fall below or above a given threshold.
Better outcomes can be achieved by overlaying demographic and geographic data to identify market insights. Additionally, members of the sales team can independently generate reports, assess their particular territories, and compare their current performance to goals and quotas. If necessary, these reports can then be distributed to supervisors and coworkers.
Enhanced Efficiency and Client Contentment: Customer satisfaction is closely related to every engagement and discussion you have with customers since it affects how they perceive your business, its goods, and services. It goes without saying that a strong sales territory reduces travel expenses and time, allowing representatives to spend more time with clients and less time on the road.
To ensure that your representatives are handling the "best" collection of accounts, it is advisable to examine their strengths and talents closely. For example, salespeople who have closed big, complicated accounts in the past should not be handling little leads; instead, they should be handling huge accounts. The message is clear: representatives should leverage their talents, build trusting connections, and strengthen their value proposition. Ultimately, establishing focused sales representatives, cultivating client relationships, and lengthening the sales period can lead to improved customer satisfaction rates.
How Can Your Team Make An Exceptional Salesforce Sales Territory Plan?
Effective strategizing and implementation of sales regions can significantly impact your company's chances of success. Whether you are beginning from scratch or trying to expand or redefine your current strategy in the context of territory management, there are many benefits to having a strong sales territory plan.
This is a step-by-step approach to help your sales team develop a profit-driven Salesforce Territory Management Plan.
Segment And Examine Current Customers
Before you can begin to design an efficient sales territory plan, you must first take stock of your current leads, prospects, and clients. You can accomplish this by segmenting your business clientele according to factors like region, buying habits and preferences, vertical, purchase history, and other pertinent details.
After doing this, you should record the verticals in which your sales force is most successful, the methods by which your current clients are making purchases and their location. You can even try selecting ten or twenty of your best prospects or clients and see if there are any traits that they have in common.
u also need to develop procedures to measure the performance and outcomes continuously.
Why Territory Management?
Businesses utilize territory management, which divides accounts based mostly on location, to run their operations more efficiently. Teams frequently cover territories, and many businesses discover that segmenting their sales organizations based on territory improves morale, team cohesiveness, and sales. Territories carefully aligned yield better customer service and higher revenue figures.
It makes sense to split management duties by dividing sales into territories and regions. The capacity to allocate expenses more effectively is a significant benefit of having sales territories. Lastly, a lot of businesses create areas out of their clientele so they may manage advertising and promotions.
Key Components of Salesforce Territory Management
Territories: These are defined as geographic or industry-specific zones where sales representatives operate. They are the cornerstone of territory management. They can be made according to a number of parameters, including ZIP codes, states, nations, or particular circumstances.
Territory Models: These models assist in outlining the territories' hierarchy and organizational structure. To manage complicated structures, you can use a multi-level model or a single-level territorial model. Multi-level models work best for companies that have a wide range of products or a global presence.
Territory Rules: These are the regulations that specify how opportunities and accounts are allocated to particular territories. These regulations may be predicated on revenue, industry, location, or any other unique field.
Assignment Rules: Within a territory, assignment rules determine how leads and opportunities are distributed. This involves outlining the process for converting leads into opportunities and accounts and distributing records across team members in a territory.
Data Sharing Rules: Within a region, data sharing rules specify who has access to and edits records. They guarantee that only authorized individuals can access sensitive information.
Conclusion
Salesforce Territory Management is an effective solution that helps companies maximize their sales efforts. Through the strategic allocation of customers, leads, and chances to designated regions, companies can optimize their sales procedures, augment productivity, and elevate the general effectiveness of their sales forces.
Salesforce Territory Management may be a valuable tool in reaching and surpassing your sales targets when it is implemented with careful planning and continuous optimization. Whether you run a small or large company, utilizing Territory Management skills can have a big financial impact and promote long-term success.