Salesforce CTI: Computer Telephony Integration is referred to as CTI. Interaction between a computer and a phone system is made possible by CTI technology. The majority of call centres that handle a lot of incoming calls employ CTI. Call centres can use CTI to handle all phone calls using computers.
Salesforce CTI is a solution that allows your phone system and CRM platform to work together effortlessly. Your sales and support teams will be able to handle phone calls and other customer contacts more effectively and efficiently, thanks to this integration. Businesses may improve customer service, streamline call centre operations, and gather valuable data for analytics and reporting by utilizing Salesforce CTI.
Salesforce Open CTI
With Open CTI, you can create and integrate third-party computer telephone integration (CTI) systems with Salesforce call centres using a JavaScript API. Without installing specialized CTI adapters, we may use CTI to make softphone calls straight from within Salesforce.
CTI For Salesforce
Simply put, Salesforce CTI is CTI that is integrated into Salesforce. Representatives can use CTI for Salesforce to conduct phone calls or have conversations using the data stored in Salesforce. CTI offers:
Transcripts of phone conversations are produced automatically.
The right person is automatically reached when a call comes in.
Present real-time account or customer data.
Click-to-dial or auto-dial functionality integrated into the Salesforce user interface.
Agents using Salesforce CTI can examine the caller's details in their database while placing or receiving calls. By reviewing the customer's past, they can quickly address the issue and save a great deal of time.
You can link a third-party CTI system with Salesforce's call center by utilizing Salesforce Open CTI. This facilitates the automatic transfer of calls to the relevant departments as well. It is also possible to record calls, both in and out, to produce real-time analytics and statistics.
Businesses can request real-time reports on employee performance with Salesforce CTI Integration. This feature also makes it feasible to log every incoming and outgoing call in order to gain insight into the needs of the clients.
CTI Features
Making and receiving calls is possible with computer telephony integration. However, the features are pervasive for what it offers.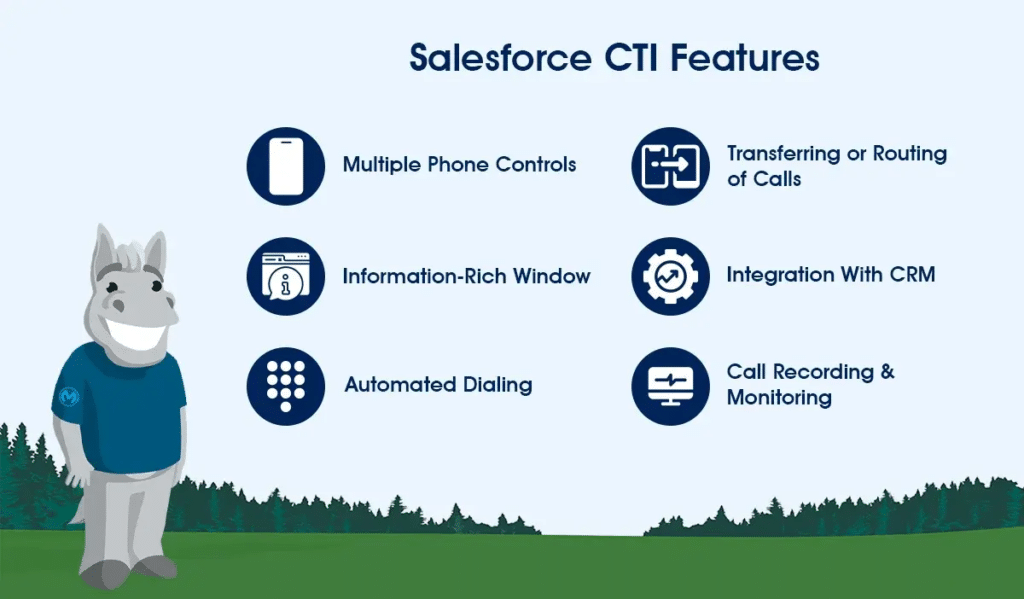 A variety of phone controls: Agents may use phone control features like make and take calls, hold, mute, combine rings, hang up, call-forwarding, etc., using Salesforce CTI. When everything is in one location, service representatives may handle all tasks without using their phones or computers.
Rich in Information Window: Because a window opens on the agent's screen automatically when a consumer calls, CTI provides these crucial features. Calls can be answered quickly because agents can quickly find all the caller data that has been stored.
Features to examine pertinent information that service agents would need to address the request or problems are displayed on this automated screen. This data includes call history, client information, and caller authentication in the form of Automatic Number Identification (ANI) or Dialed Number Identification Service (DNIS).
Mechanized Calling: Features for automated dialing that Salesforce CTI provides:
Anticipatory Dialing
Auto dialers that you click to call.
A time-saving technique for bulk or automatic dialling of too many phone numbers at once is predictive dialling. Once a live agent connects with the consumer, the call will be assigned to them for more discussion.
Routing or Transferring Calls: Using an Automatic Call Distributor (ACD), Computer Telephony Integration, or CTI, gathers data-oriented call transferring or routing.
Its primary duty is to double-check the data obtained from incoming calls using the database accessible through the company's system. Transfer the call to the agent knowledgeable about the stated question after that.
Connectivity With CRM: By linking the CTI system, teams may now access all customer data stored in their CRM system. Additionally, CTI can be connected with unified communications, VoIP PBX phone systems, and contact center platforms.
Call Recording and Monitoring: If used for call recording and monitoring, a CTI tool or software can be pretty beneficial. To comprehend the details of the issue that has been brought up and provide consumers with individualized solutions, agents might review past call records.
How Is CTI Operated?
Most CTI software supports VoIP and may turn your computer into a phone's extension. This feature operates concurrently with the software used by your business. It enables agents to interact more during calls by giving them instant access to customer data.
Let's break down the procedure into two easy steps:
Step 1: With just a little coding, the CTI Features are integrated with the website or application you are using. Agents can quickly ascertain the caller's phone number by doing this. Additionally, it lets you call straight from your phone app by clicking on the number, saving you the trouble of manually dialling.
You can use different tools to make and receive calls with CTI. Additionally, the phone controls and client information are accessible from the same screen. For contact centre agents and management that desire call monitoring and visibility, this makes it a helpful tool.
Step 2: CTI features begin to reveal all its possibilities. Managers and experts may quickly prepare reports and conduct analyses of the business and personnel deployed thanks to the comprehensive recorded and stored information in the CRM, ERP, and ticketing system database. This gives you a sense of the services offered to clients and shows you where you may make improvements.
Salesforce CTI Integration
The following steps are included in the Salesforce CTI integration process: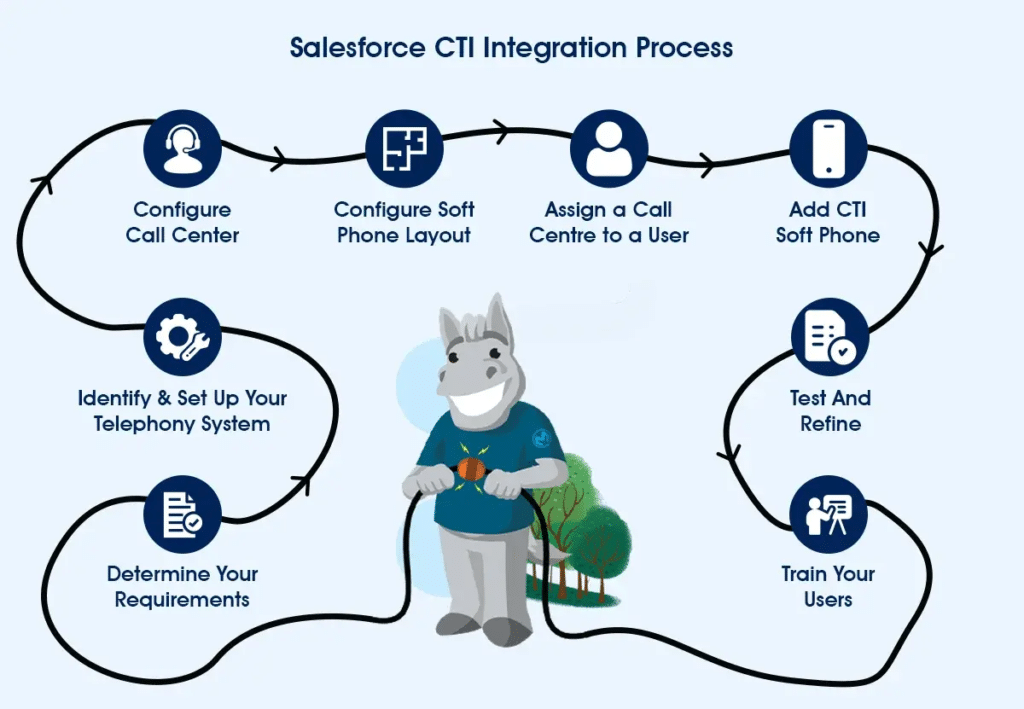 Step 1: Determine Your Needs
Knowing your unique needs and requirements is crucial before you begin the integration process. Following the establishment of the requirements, it will assist you in selecting the best CTI system for your company and guarantee that it satisfies your operational demands.
Step 2: Identify and Setup Your phone System
You must first identify and setup your phone system to meet your needs before you can integrate it with Salesforce.
Step 3: Call Center Configuration
To connect the call center to the web application of the telephony provider, upload the XML file of the web application (which contains the configuration information) and enable the capabilities in Salesforce CTI that meet your demands.
Step 4: Configure the SoftPhone Layout
To allow call redirection to existing clients, new leads, contacts, and accounts, configure the softphone layout. During the conversation, the Softphone layout's customized interface offers all call controls and caller information from Salesforce. On the softphone layout canvas, you may add call redirection options and alter them to suit your brand's preferences. By doing this, you can guarantee accurate data entry and flawless client interactions.
Step 5: Give A User Access To A Call Center
It would help if you allocated a call center to the appropriate users at this stage. Next, provide them access to the phone provider's system to make and receive calls via the CRM. After the call center is allocated within Salesforce, users can access caller information and critical call controls. It makes it simple to manage and keep track of every customer encounter.
Step 6: Incorporate CTI SoftPhone Into The Program
Fill the application's utility bar with the CTI softphone. Users may easily manage calls with the CTI softphone by viewing caller information and call controls without constantly jumping between windows and Salesforce programs.
Step 7: Evaluate and Improve
It's crucial to test the system when integration is finished and make any necessary improvements. To make sure the system functions as best it can, this entails evaluating the call flow, routing, and handling and making the required adjustments.
Step 8: Educate Users
Lastly, you must instruct your users on how to use the CTI system, including how to log calls, make and receive calls, and access customer data.
Meticulous preparation and execution are necessary for the Salesforce CTI integration procedure to be successful.
Salesforce CTI Benefits
Following this simple integration procedure, consider the benefits you can achieve as a company and as a customer service representative to meet various objectives.
Effective Call Handling: After the CTI is integrated with Salesforce CRM, it eliminates the need for agents to perform tedious manual data entry and call handling. With the addition of Dialpad to the system software, agents can now search for the name of the person they wish to call or tap the number displayed on the screen to continue the discussion.
Enhanced Customer Support and Enhanced Contentment: The improvement of customer service quality and customer happiness is one of the indirect goals of CTIs. A CTI tool makes it convenient to process and collect the caller's information and determine the precise reason for the caller's request for a chat.
Not Limited By Hardware Or Software: Remote customer care representatives can do their work at their desired location with ease using a Computer Telephony Integration (CTI) system, which eliminates the need for hardware and software.
Your Customer Relationship Management (CRM) platform integrates the CTI, which requires agents to log in to their web browser to function.
Tracking Performance Is Easy: Managers can monitor how agents interact with consumers over the phone by recording incoming and outgoing calls. Additionally, it's simple to develop reports and gain insights into trends and clients by utilizing analytics tools.
Conclusion
In summary, businesses can gain from Salesforce CTI integration by improving customer experience and optimizing communication. Each member of your team has grown accustomed to handling customer requests, complaints, and queries; one component that guarantees clients are leaving the call with all the information they require is CTI.
It is preferable to enlist the assistance of a seasoned Salesforce Integration Partner who has completed Salesforce CTI Integration numerous times and is adept at removing roadblocks when they arise. The integration process can be made smooth by utilizing their Salesforce CRM integration services.
However, you can arrange a call from this website and receive the Salesforce CTI Integration in a friendly manner, so why waste more time hunting for the ideal integration partner?