Email-to-Case Salesforce: In today's rapidly evolving business landscape, efficient communication and streamlined workflows are paramount for success. Customer service, in particular, stands as a pivotal aspect that can make or break a company. Leading customer relationship management (CRM) platform Salesforce recognizes this need and has created the effective solution Email-to-Case to improve customer assistance procedures.
This integration allows businesses to convert customer emails into actionable cases seamlessly, optimizing efficiency and improving overall customer satisfaction.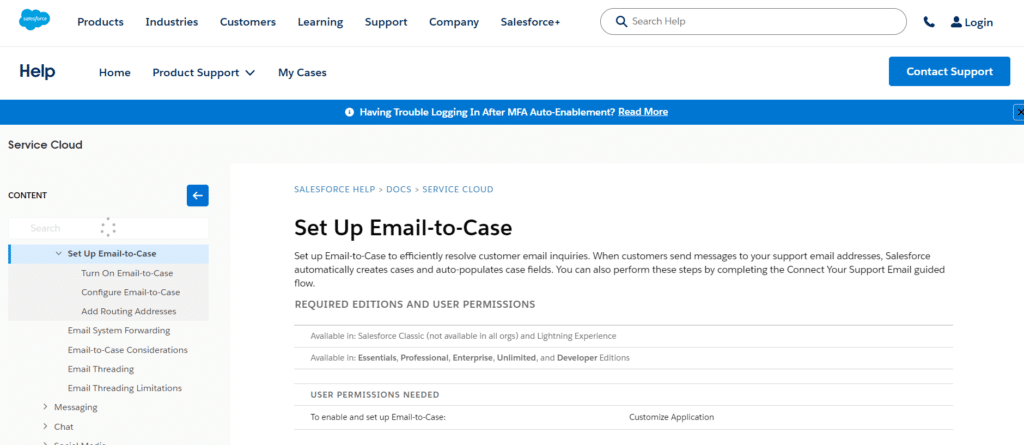 Email-to-Case Salesforce: The Most Effective Way to Remove Duplicates
An out-of-the-box tool called Salesforce Email-to-Case lets your customers submit emails to your company (under an alias), which are then converted into tickets (case records) that may be handled via Service Cloud. From there, your company can perform various automatic tasks like sending auto-replies and assigning cases to your support staff.
But in the past, normal client behaviour could cause disaster in Service Cloud. The unexpected result of bringing someone fresh into the communication loop was the creation of a duplicate case. However, those days are long gone; these days, Email-to-Case does a much better job of removing duplicates.
Understanding Email-to-Case Salesforce
Within the Salesforce CRM platform, a tool called Salesforce Email-to-Case automates the process of turning client emails into support cases. By automatically generating or updating cases based on the content of incoming emails, it expedites the customer care process. This guarantees that the support staff will effectively handle and address any questions, concerns, or requests from customers.
Configuring a specific email address linked to Salesforce is how the connectivity works. Salesforce automatically creates new cases or modifies old ones based on email content sent by customers to this address. After that, this data is arranged and made accessible so that the support staff can handle it in an orderly and organized way.
What Makes Email-to-Case Salesforce Relevant?
Do you think there's a need to streamline processes or that your company's resources are being used to the fullest? Then you are not by yourself. Numerous difficulties have emerged in the last several years, such as the "Great Resignation," which will see the highest number of workers ever leave their positions in 2021 — over 47 million. Consequently, businesses have to accomplish more with less.
Businesses use technology as a resource to increase efficiency and workflows. One such tool is the Salesforce Email-to-Case capability. Duplicate case risk is a major concern associated with this functionality, which aims to streamline customer service encounters.
Due to a lack of individualised experiences, higher expenses, and other factors, duplication creates a number of issues, including consumer annoyance.
Were you aware that:
On average, duplicate instances make up approximately 5%–10% of cases.
The cost per agent can vary from $5 to $40 in a single instance.
Duplicate data is present in 97% of IT departments' systems.
Salesforce released two updates in quick succession to address user concerns over managing duplicate cases. Going ahead, you can recover the time and money you lost on instances that were duplicated by knowing the specifics of these upgrades and other possibilities.
Email-to-Case Salesforce Setup
Let's look at a step-by-step guide for configuring Email-To-Case in Salesforce.
Make Email-to-Case enabled.
We must allow email-to-case before we can configure it. To enable the email-to-case feature in Salesforce, follow the steps below.
After selecting Setup, type Email-To-Case into the Quick Find field.
After that, choose Email-to-Case and press the edit button.

Click Save after selecting Enable Email-To-Case and On-Demand Service.
Email-to-Case Routeing Addresses
From the linked list of Routing Addresses, select the New button.
Complete all needed fields to set up the case and verification email.
Next, select Save.
Following completion, Salesforce will send you an email to confirm your email address.
Configuring Rules for Forwarding and Routing
It's time to set up email forwarding in Gmail, Outlook, or with our email provider now. Set up your email system to forward messages to auto-generated service addresses.
As the demo is being conducted using Gmail. Gmail user articles for Gmail communications can be automatically sent to another account.
After logging into your Google Mail account, select the settings icon.
Next, select the POP/IMAP and Forwarding tab.
Next, press the option that says "Add a forwarding address."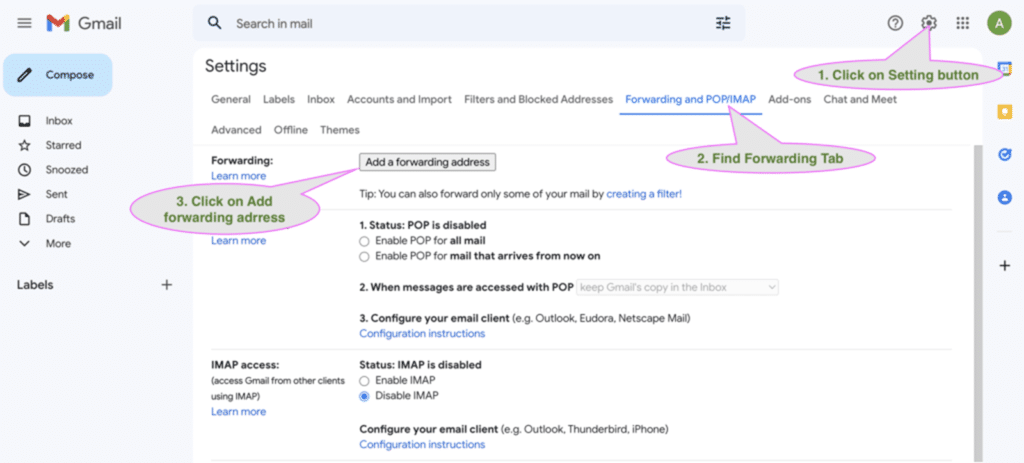 Add the forwarding address that Salesforce supplied with the email.
After adding an email, a confirmation box stating that the email is being forwarded to an auto-generated Salesforce email address will appear.
When the Salesforce Email-To-Case address receives a verification code. After that, Salesforce will build a new case. Copy the confirmation code and open the Salesforce case. Thus, our email-to-case system is operational.
The confirmation code needs to be added to Gmail now, and the verify button needs to be clicked.
The final step is to choose Email-To-Case: Forward a copy of receiving emails and then click Save Changes.
Again, congratulations—we're all set to put our hard work to the test.
Email-To-Case Test
We should test our email-to-case flow now. Email your support email address.
Now look for a new case record in the Salesforce case tab.
Cloud-Based Email-to-Case Service: The First Update
Your company email and your cloud service are linked in order for the Email-to-Case capability to function. Every time a client or customer emails the account, a ticket (case) is created inside of Service Cloud that you may manage.
But suppose a client responds to an email and adds their manager to the CC list. When a "reply to all" email is sent, a duplicate case is made as a result of adding a new person to the communication loop.

In order to address the problem, Salesforce released its first upgrade in 2021, which included a case ID number in the subject line. In an effort to avoid having duplicate cases, everyone who responded to or otherwise interacted with the subject line would have the same case ID. However, duplicate instances continued to enter the system.
A duplicate instance was made if someone unintentionally erased the subject line, modified it, or responded incorrectly in some other way. This led to the development of a second upgrade, which will be available in the summer of 2023.
How Does the Second Update Differ?
Salesforce started working on a second update because including the case ID in the subject line was only sometimes successful. This update was originally scheduled for 2022 but was recently moved to the summer of 2023.
The updated version makes use of "email header-based threading," wherein incoming emails are matched to cases using the message ID, "reply to" field, and reference headers. The case ID number that was previously put in the subject line will be replaced by this method.
The change should reduce duplication, but more is needed to solve the issue completely. Due to the first email's lack of the Service Cloud-generated header, any more client emails sent afterwards that are "replied all" will still be considered duplicates. Thankfully, there is an alternative that will drastically cut down on future time and resource waste by automating the process of finding duplication.
An Option to Dedupe Case Tickets
There are alternatives on the market that let you automate the merging of duplicate cases that are generated when you use Email-to-Case Salesforce.
A "certainty of duplication" level can be defined, and the technology will immediately merge any cases that fall under that threshold. For instance, an artificial intelligence system might be 95% certain that a case is a duplicate. Your merge will be completely automatic, and a staff member won't ever need to handle the case if your confidence level is set at 95%. Patients who don't meet the threshold are sent to a staff person for manual determination.
Time is recovered as a result, freeing up employees to concentrate on higher-value tasks. The following are some advantages of using a deduplication solution:
Increased call center efficiency.
The capacity to handle tickets more quickly.
Reducing the time and expense incurred in handling duplicates by 90%–100%.
Enhanced encounter with customers.
You will have saved 100% of the time that would have been lost in the cases that are automated, which is quite helpful. There is a fee for each duplicate case, for instance, if you have 1,000 of them per month. Assume that each case costs $20. You can save a whopping $20,000 in a single month if you get rid of 1,000 duplicates every month.
Principal Attributes and Advantages of Email-To-Case Salesforce
Any attachments that a consumer delivers with their case are automatically linked to the original case when they respond to it.
You can determine the number of emails exchanged before a problem is fixed by using case reporting, which tracks both incoming and outgoing emails by case.
You can construct several email addresses using routing addresses, and you can use these addresses to transform customer emails' contents into case fields.
Email-to-Case integrates smoothly with Assignment Rules, Escalation Rules, Workflow Rules, and Auto-Response Rules.
A Few Key Functionalities
If a contact has the same email address in Salesforce, it immediately populates the contact and account.
The contact and account fields on the case object will be empty if the contact does not have the same email address.
Considerations And Email-To-Case Limitations
How Long Email-to-Case handles Emails: Email-to-Case automatically reduces email body content to 32,000 characters and email headers to 32,000 characters. If you would want to raise the email body text limit for your company to 131,000 characters, get in touch with Salesforce.
How Email-to-Case handles Inbound Auto-Response Emails: Salesforce auto-response emails that arrive aren't linked to cases.
Email Writing Advice: The subject line and substance of an outgoing email should be different. An endless loop of emails pertaining to each case is produced by Email-to-Case if the email subject and body text are the same.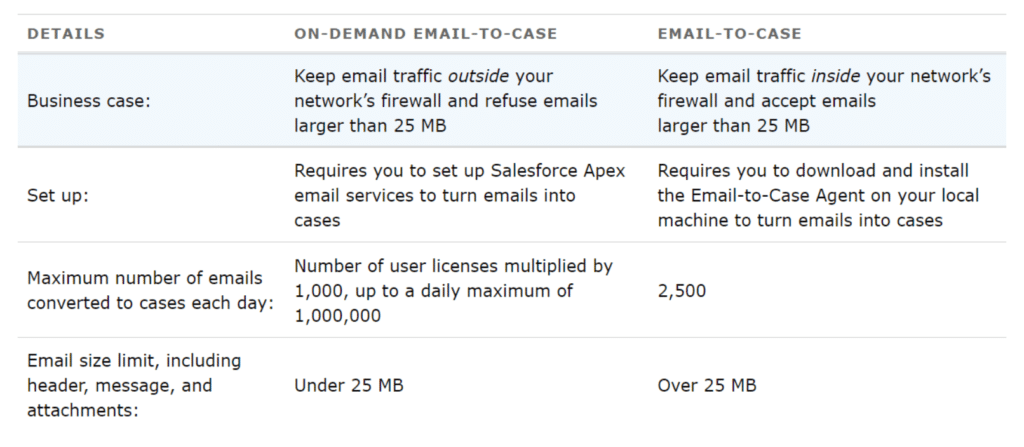 Conclusion
Email-to-Case Salesforce is a powerful feature that streamlines customer support by automatically converting incoming emails into support cases within the Salesforce platform. This integration enhances efficiency and ensures that customer inquiries are promptly addressed.
By automating the case creation process based on email content and sender details, agents can focus on resolving customer issues rather than spending time manually creating cases. The seamless transition from email to a structured case within Salesforce enhances collaboration, enables better tracking and reporting, and ultimately leads to improved customer satisfaction through faster and more effective support.